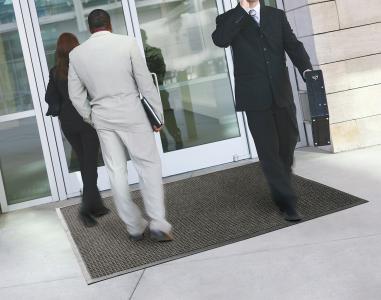 There are potential hazards in the workplace we do not recognise until they have caused problems. Safe Work Australia reports that from 2003 to 2015, over half of slips, trips or falls in the workplace were caused by environmental factors. These factors included slippery surfaces and walkways that were either poorly designed or poorly maintained.
You can make your workplace safer by identifying key areas that need mats or matting. Here, we give you a list of high-risk areas and recommendations on the ideal solutions.
Entryways and exits
Entryways and exits can become wet and slippery due to rain, snow and algae growth. Placing mats in entryways and exits can provide friction for safe walking and allows employees to wipe off water or mud under their shoes. The Absorba Mat is suitable for high traffic areas and traps moisture and dirt so that they won't be tracked indoors. You can also consider the Floor Shield, an easy to clean mat that dries quickly and does not fade quickly from use or sun exposure.
Access ramps
Being an inclined surface, access ramps naturally present risks and challenges. Placing mats or matting on them provides better friction and traction for wheel chairs or scooters.
For those who have raised doorways, we also provide heavy duty rubber access ramps for indoor and outdoor applications. Wheeled traffic can easily enter or exit a raised doorway without unnecessary strain on their bodies and wheelchair.
Wet areas
Surprisingly, a lot of establishments do not have mats near their swimming pools, shower areas, kitchens or other wet and spill-prone areas. For continually wet areas, we provide matting like the Clean Loop Mat, Sure Grippa and Safeguard Matting. They are effective for creating non-slip surfaces, and the Clean Loop Mat and Safeguard Matting are gentle enough for bare feet.
For spill-prone areas, we provide mats that can handle grease and chemical spills such as the Ultra Stand and Tubular Safe.
MatTek provides a wide range of matting and mats including safety mats, custom printed logo mats, and office and commercial mats. Call us today for your employee and floor protection needs.