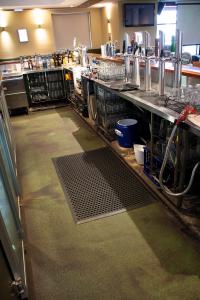 DO YOU NEED MATTING FOR A BAR SITUATION?
MATTEK have a number of options for you.
The most popular are:
Utility matting is a versatile safety matting on a roll.  This anti-slip mat can be cut to any required length, width or shape.  Utility Matting has a comfortable surface with drainage holes.  The raised backing assists drainage and suction caps on the underside provide floor adhesion.  This product can be edged.
Tubular Safe matting is made from PVC and can be cut to any length or shape.
The soft surface drains and resists oils, chemicals and alkalis.
This product is ideal for wet areas like bars.
Tubular Safe is of heavy duty construction and is made in Australia.
It is available in black or blue.
Made from 100% Nitrile Rubber, Comfort Clean is resistant to greases and oils.
The raised up lugs provide excellent traction and keep mat surface dry.
The Closed cell "sponge" formula makes mat comfortable.
Comfort Clean has bevelled edges for added safety.
This product is machine washable.
Safety Cushion is a popular general purpose safety mat.
It is comfortable and non slip with bevelled edges for safety.
Safety Cushion is ideal for bars, kitchens, food preparation areas and many other situations.