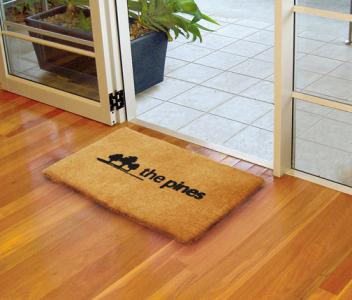 Every business owner wants their target audience to have a positive lasting impression about their business. They can do this by placing their business' promotional materials in and out of their store. For instance, brochures about a business' products or services can be handed out by staff outside the store. TV monitors showing a company video that invites customers to take advantage of their products or services. Logo mats help brighten up the entrance and convey any important messages.
Customised doormats are an effective promotional material that leaves a great impression from the moment a customer approaches the entrance of a store.
Brand Awareness
Logo mats provide businesses with an opportunity to promote their brand and create a lasting impression at the first step.  The colour of the mat and company logo attracts customers, which helps set the tone for anyone who enters your store. Having an outdoor logo mat for your store gives a strong first impression to your customers. It gives the impression that your company is professional and welcomes customers to go inside your store.
MatTek's Various Logo Mats
Not only can logo mats promote a company's image, but of course, they remove soil and grime from a customer's footwear. Our Coir and Tough Scrape designs have coarse fibres and bristles that are excellent at removing dirt and debris from footwear. It also has a moisture absorbent surface that dries footwear efficiently, which prevents slips and falls.
If you are worried that the logo on the mat will eventually fade, you can select our True Grip design, which is made of 100 percent nitrile rubber and is efficient at removing dirt from footwear. The logo is moulded into the rubber and covered with a strong, clear coating that ensures the logo will always remain clear.
Using our logo mats enhances your store's brand image, and it helps keep your store's interior clean from dirt and grime from footwear.
If you want to inquire about our various logo mats, call 1800 892 872 or contact us.